---
Having celebrated my one year anniversary with Spear (can you believe it?!) I took a couple weeks off to explore the globe and embarked on a cruise in the Baltic Sea.
While I was in Tallinn, Estonia, I had the great fortune to meet with several Spear Study Club members who practice in this beautiful city. I had met Dr.'s Piret Vali, Martin Martma and Merle Vislapuu last December here in Scottsdale at the Spear campus.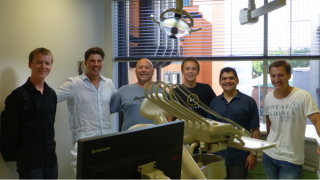 When I realized where they were from I shared that I would be in their country in July. Dr. Martma graciously invited me to contact him and arrange for a meeting when I docked in Tallinn.
What a wonderful day! I was so impressed with their clinic, the quality of care and of course their commitment to life-long learning. Their office is as beautiful as any I have seen anywhere in the world. I also had the pleasure of meeting Dr. Kristina Saarepera and Dr. Dmitri Ruzanov.
KLIINIK 32's mission statement, which is proudly displayed on the wall. What an amazing practice. The approximate translation is "Our goal is to become Europe's most valued dental team who is recognized as a patient-centered treatment planning and resolver of unique cases."
As if this was not coincidence enough, on the same day on a different ship Dr. Howard Farran and his two sons Zach and Ryan had docked in Tallinn and had arranged to meet Dr. Martin Martma as well.
A fun day was had by all and it will be great to see my new friends in Scottsdale this November!