---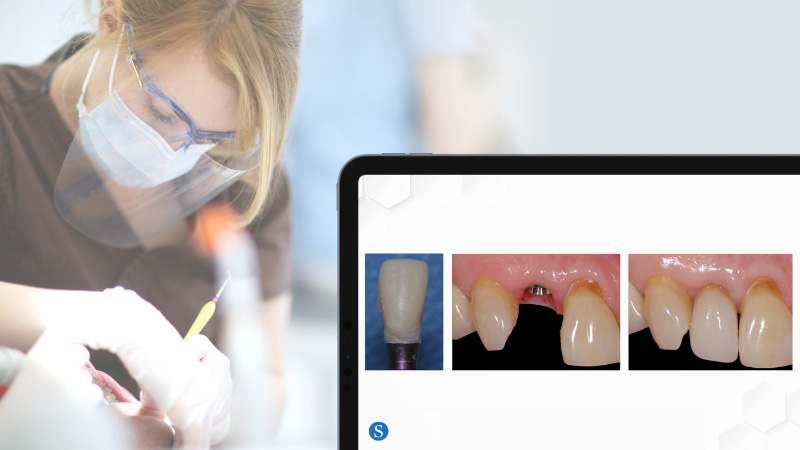 When it comes to doing dentistry in the esthetic zone, nothing may be more daunting than preparing the patient for the potential outcome of their treatment prior to initiating care.
Patient expectations during case presentation may be out of sync with clinical reality and all the unique challenges implants in the esthetic zone can pose.
The Esthetic Risk Assessment, developed by the Swiss-based International Team for Dental Implantology (ITI), has a dual role:
Minimize restorative challenges and improve the predictability of an esthetic outcome and reduce the risk when managing soft-tissue defects in the esthetic zone.
Facilitate communication and manage patient expectations about treatment risks and potential outcomes during case presentation discussions.
In collaboration with the ITI, a new Spear Online course, "Utilizing the Esthetic Risk Assessment," Dr. Will Martin, the director of the University of Florida's Center for Implant Dentistry and one of the original creators of the ITI's Esthetic Risk Assessment (ERA), shares his knowledge and extensive experience with restorative dentists and their teams so they can understand and successfully implement the ERA into their practices.
"I have lectured on the ERA for over 15 years and the goal of every educational experience is to have the participant leave more knowledgeable than when they arrived, and hopefully more aware of their limitations, as well as areas where they need to focus on learning," Dr. Martin said.
Dr. Martin, D.M.D., M.S., F.A.C.P., uses a step-by-step approach — with a foundation on firm diagnostic data and evidenced-based treatment modalities to guide the clinician in evaluating 13 clinical parameters that can influence both positive and negative outcomes when placing and restoring implants in the esthetic zone.
These risk factors are classified as low, medium, or high, all expressing variable influence on the potential to achieve an ideal esthetic outcome.
Learning objectives of the course are:
Describe the esthetic parameters of an ideal implant-supported restoration.
Identify the Esthetic Risk Assessment (ERA) table and explain how to use it during patient consultation and evaluation.
Discuss the impact of each risk factor on the potential for esthetic compromise.
Dr. Martin on learning about risks with implants in the esthetic zone
Spear Digest spoke with Dr. Martin for more insight about implants in the esthetic zone and the release of the new Spear Online course and Study Club module in collaboration with the ITI, "Using the Esthetic Risk Assessment for Single and Adjacent Space Scenarios."
What is your hope for your new course?
"From the onset, our primary goal was to create an effective collaboration between Spear and the International Team for Implantology (ITI) to educate Spear members in implant dentistry and for them to explore the ITI resources offered to clinicians seeking to elevate their knowledge in implant dentistry. The Esthetic Risk Assessment is an integral part of the educational offerings from the ITI utilized in treatment guides, SAC classification, and the ITI Academy."
How does your curriculum bring dental professionals together in the interdisciplinary process?
"The course and the Study Club module introduces a risk assessment tool to evaluate a patient who needs a dental implant in the esthetic zone. The tool evaluates a patient's clinical factors and how they relate to the potential ideal esthetic result from implant therapy. The assessment table can be used, not only in consultation with the patient, but also during collaboration with members of the treatment team."
What is the most common challenge that the 'Utilizing the Esthetic Risk Assessment' course will address for general practitioners?
"It will help prevent them from getting in over their heads when treating partially dentate patients with dental implants and esthetic demands."
What about specialists? Even for those that are proficient in handling implants, what is the benefit to take the course and share the material among the interdisciplinary team?
"I truly feel this assessment tool is valuable for anyone who practices implant dentistry, regardless of specialty, knowledge or experience. It acts as a checklist during the consultation process and, when planning treatment, it will assist in generating treatment fee estimates."
What do you hope will continue as Spear develops this type of content?
"There is no endpoint in learning about materials, techniques or methodologies in the field of implant dentistry. Clinicians need to be lifelong learners as it all continues to evolve. Blink and it passes you by. Aligning with organizations, like Spear and the ITI, will ensure the knowledge disseminated is supported by evidence-based principles."
At the University of Florida's Center for Implant Dentistry, what issues are at the forefront of faculty discussions about where dental education needs to go to meet the needs of patients?
"I think digital implant dentistry is at the forefront. Over the past several years we noticed our patients benefiting from digital dentistry. During the pandemic, our experience has been that patients prefer to minimize time spent in the chair. Through digital acquisition of patient information during the consultation (e.g., iOS, CBCT, photos, etc.) we can generate digital tooth arrangements, treatment and surgical plans, guides and provisionals without the need of having the patient present. In addition, treatment plan presentations can be given via tele-dentistry, minimizing in-person contact."