---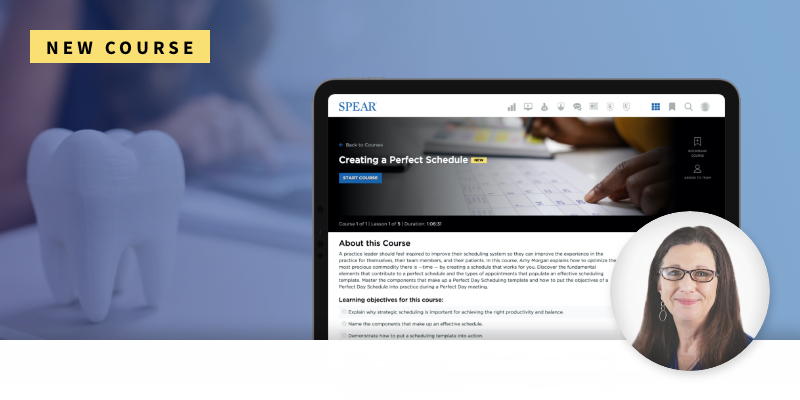 For many reasons, 2021 appears to be another challenge for independent dental practices. Between the continued COVID-19 pandemic and waning public interest in oral health, plus the growth of DSOs, dentists are fending off more business risks than usual.
To help practices and their teams get aligned and succeed through these tough times, Spear Resident Faculty member Amy Morgan has released a new continuing education practice management course, "Creating a Perfect Schedule (1.0 CE credits)," in which she discusses Practice Solutions concepts of pre-blocking, timing, and building in Power Time and daily meetings with components that make up Perfect Day Scheduling.
"If you factor in the challenges of 2020 that are continuing into 2021, every clinician needs to make sure their business house is in order," said Ms. Morgan, the former CEO of the Pride Institute who joined Spear in 2018 and has been a leader among faculty efforts to make more relatable practice management resources available to a broader audience.
"This is going to be a challenging year for many reasons and Spear wants to support the entire community with access to practice management content," she said
Tapping into Spear Practice Solutions' content and making it more universal means preparing your dental practice team and front office staff with proven management models. Practice Solutions doctors and their teams have seen significant increases in production revenues, patient retention, personal hourly production, and average treatment plan revenue, in addition to the overall benefit of organizing the team around more effective systems that help everyone enjoy their time in the practice.
In addition to Ms. Morgan's new Spear Online course, six new Spear Study Club modules equip dentists to become stronger chief executives of their practices through the development of leadership skills but also with practice management training.
The "Foundations for a Thriving Practice" Study Club curriculum is designed for the entire interdisciplinary team, both specialists and restorative doctors, and some modules are also intended to be shared with practice team members.
"Practice management models should not be a 'state secret.' We don't want a study club member to learn their scheduling from 'the street,'" Ms. Morgan said. "There is a lot of bad advice out there. The strength of our community is sharing information and legitimate practice models."
A refreshed commitment to strong dental practice scheduling
A dental practice's scheduling system is critical for practice growth, profitability, and patient experience. Yet, "scheduling as a system is the first system that breaks under chaos," according to Ms. Morgan, who so many Spear dentists and Pride alumni simply call "Amy."
"Knowing how to optimize the most precious commodity there is —time — by creating a schedule that works for you are the keys to reaching your goals and being as profitable as possible," she said.
"There has never been a better time for a recommitment for scheduling," she added. "My challenge to teams is to be open and get back to the basics. I guarantee your schedule will evolve no matter what your practice's level of maturity is. Your schedule, as a system, will evolve with you."
"It's 2021. It's time to do a little housing cleaning. Returning to scheduling on a yearly basis is a component of strategic planning." -Amy Morgan
Dental practice scheduling templates and other tools available with online course
"Creating a Perfect Schedule" is now available from Spear Online. Course learning objectives include:
Explain why strategic scheduling is important for achieving the right productivity and balance.
Name the components that make up an effective schedule.
Demonstrate how to put a scheduling template into action.
Course lesson names:
The Power of Strategic Scheduling
The Fundamentals of a Perfect Schedule
Putting the Pieces in Place: The Art of Pre-Blocking to Promote Balanced, Productive Days, Every Day
Making It Real: Designing Perfect Day Scheduling Templates
Using Morning Perfect Day Huddles to Drive Your Schedule