---
I've been involved with dental forums since 2000. In the beginning, I was the classic lurker.
What is a lurker?
It is someone who logs on an interactive site, peruses the dental forum, but never writes a post, never asks a question or contributes to a conversation. After about a year of lurking, I decided to dive into the fray of posting on dental forums.
There are many dental forums presently on the Internet. So how does one get the most out of dental forums? Like the answer to many things in life, the answer is...
It depends!
Dental Forums: There are Many Choices
It depends on what one is looking for. There are dental forum sites that are strictly social in nature. There are dental forum sites that may be focused on a certain area of dentistry like cerecdoctors.com. There are dental forums like
Spear TALK
which cover clinical and practice challenges. There are sites that cover a whole set of dental and non-dental topics like Dentaltown. There are many, many choices.
However, in my opinion, once you have made the choice of the dental forum that pertains to you, PARTICIPATE! I know for myself, I received much more from the forums once I decide not to be a lurker and participate in the conversation. Who knows, your contribution may just be the answer a lurker is looking for.
Mark J. Fleming, DDS, Spear Visiting Faculty and Contributing Author.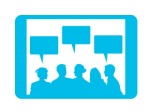 Looking for answers to questions posed in this article? Take your questions to a few thousand dentists, including the esteemed Spear faculty, on Spear's discussion boards. Don't have access? Sign-up for free today.