Spear Online Features
Spear Online is dentistry's most innovate online learning platform. As a Spear Online member you will have access to:
Award-winning library of 1,500+ CE-based clinical lessons, staff training, and team meeting resources

Spear Talk – a clinician-only online forum

Unlimited use of patient education resources including: practice-branded lobby videos, diagnostic and treatment sharable videos, chairside mobile app, print-ready treatment plan documents, and educational video content that can be used on your practice's website and social platforms
Join Spear
Request Info

About Spear Online
Online CE
Dentistry's Most Innovative Online Learning Resource
Sharpen your skills from home or the office — or from anywhere on the go — with more than 1,500 video lessons and other dental continuing education materials focused on clinical expertise, practice management and team training.
Flexible & On-Demand Learning
Complete dental CE credits at your leisure, following video lessons led by the industry's top clinicians and educators.
Patient Education
Membership also provides you with the new Patient Education platform, chairside tablet app and streaming lobby videos — animated, research-driven content to help patients confidently accept treatment.
Content Library
Video lessons include restorative dentistry strategies on esthetics, occlusion, worn dentition, implants, case acceptance, photography, patient communication and other essentials for practice growth. View the full Online Education Catalog.
Timely & Evolving
Coursework — including prescribed curriculum and pathways — is constantly being updated, with new material added weekly.
"What Spear Online curriculum has done is really focused and organized the learning process for our staff. We don't have a whole lot of time in our practice for education because we're so busy with patient care. So, having something that is systemized and focused like the curriculum has really helped us... and it energizes the office."
- Bob Schoenenberger, D.D.S.
Sheboygan, Wisconsin
Relief With Practice Recovery
The new program provides you with a framework to develop an action plan for financial stability and team alignment in a time of crisis. Get immediate help through our "4 Key Initiatives," which you can prioritize based on your specific needs:
Managing receivables
Money is crucial, more than ever. Missing opportunity for revenue in lean times can mean the difference between survival and failure.
Strategic scheduling
Each practice needs a recovery scheduling expert so they can ramp up right away and put hundreds of cancelations into a meaningful cadence.
Patient messaging
It's essential to communicate clearly with patients that the dental office is safe and how your office is managing the crisis.
Patient financing
A practice needs to make it financially possible for often-skeptical patients to achieve their optimal oral health in a time of economic downturn.
Team Training
Tools for the Front Office, Hygienists and Assistants
Lessons for the Entire Practice
Guide the professional development of your clinical team with courses that foster a deep understanding of how the various roles contribute to greater overall patient satisfaction.
Assign courses to elevate the individual skills of each team member.

Track their progress through dental CE-eligible quizzes and receive implementation plans that put the lessons into immediate action.
Bring Passion and Purpose to Team Meetings
Create a powerful practice, one meeting at a time, through online videos and guided discussion resources that make your regular sit-downs highly engaging and productive.
Meeting modules come fully equipped with agendas, video lessons, discussion questions and implementation plans.

Resources help you and your team maintain consistent standards and messaging across all functions of the practice.
When your staff understands and communicates the value of the dentistry you provide, patients are better informed and more receptive to accepting treatment.View the Spear Online interactive pathway.
"I've tried other online curriculum providers, but none are as polished and well-produced as Spear Online. I can sharpen my skills anytime, anywhere"
- Eric Moellers, D.D.S.
Decorah, Iowa
Patient Education
Communication that Empowers Your Patients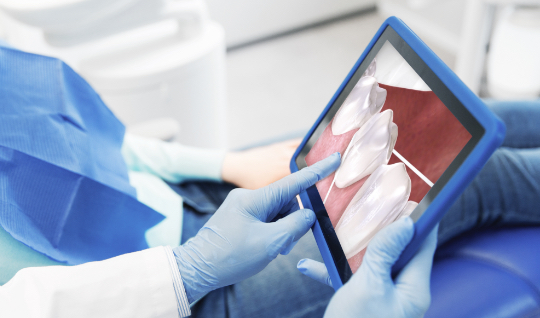 Share animated, research-driven videos with the new Patient Education chairside tablet app and streaming lobby videos — resources proven to drive increased case acceptance and make complex clinical issues easy for the average person to understand.
Included with your Spear Online membership, the Patient Education platform enables you to:
Help patients grasp their conditions and the potential consequences of inaction without fear or shame.

Effortlessly stream engaging, unobtrusive video content to the TVs in your lobby via Apple TV or Fire TV Stick.

Create friction-free chairside discussions with the swipe of a finger across your tablet, including with Spanish-language subtitles.

Select from a library of more than 160 videos created by the industry leader in dental educational content.

Email and text treatment recommendations, or provide custom print sheets, in an instant.
"I have some pretty new staff members in key positions that have a lot of experience in dentistry but have never really had the foundation that Spear gives you for our whole office philosophy. What I like about it is there are flowcharts to follow and people are held accountable."
- Brian Dennis, D.D.S.
Albuquerque, New Mexico
Lobby Tools
Make Your Lobby More Engaging
The Patient Education platform includes a library of condition overview videos, such as those on hygiene habits and tooth wear, that are ideal to stream in your lobby.
Plug-and-play with Fire TV Stick & Apple TV Our new native apps make it easy for your staff to automate content so you can focus on other practice priorities.
Unobtrusive silent videos Even as they run in the background, Patient Education videos are designed to catch the viewer's attention, so they come to your chair prepared and ask more informed questions about their oral health.
Customize your lobby video content Create custom video playlists that reflect your practice's clinical standards by uploading your own images, logos and specific information.
Equip Your Team to Answer Patients' Burning Questions with Conversation Esstentials
Provide your patients with a more comforting and satisfying experience following our series of brief video lessons that highlight effective answers to their most challenging questions.
Learn to develop more consistent messaging among team members to set clearer patient expectations

Establish a set of key responses to provide patients with a greater understanding of their conditions and treatment options
Dental Forum
With Spear Talk, You're Never Alone
The Spear Talk forum connects you to thousands of like-minded colleagues in a supportive, clinician-only community monitored by Spear faculty and contributing authors.
Find answers to any clinical or practice-management issue, share your knowledge of dental CE issues and draw from the experience of other dentists.

Learn from specific cases and anecdotes posted by others, and from the solutions provided by Spear faculty.

No salespeople or manufacturers permitted.
"I feel like I was able to utilize Spear Online curriculum videos to be able to see what is going on with my patients in a way that I wasn't able to see before. It also made me more comfortable presenting that treatment, or at least talking about that treatment with patients."
- Benjamin DeGraff, D.M.D.
Portland, Oregon
Subscribe Now
Flexible Online Learning at Your Fingertips
Schedule a tour to learn how you can gain 24/7 access to CE-eligible coursework, Patient Education videos, team training multimedia and more with an annual Spear Online membership.