---
As we get older, we start to have more health problems. These health problems affect our oral care and some of these problems probably would've been prevented if we took better care of our oral health in the first place. After you retire you are dependent on Medicare, and we all know Medicare does't cover what we really need.
According to the CDC website, by 2060, the senior population (over 65) is expected to reach 94.7 million and make up 25% of the population. Not only that, senior citizens are a growing population that can actually make your practice flourish financially!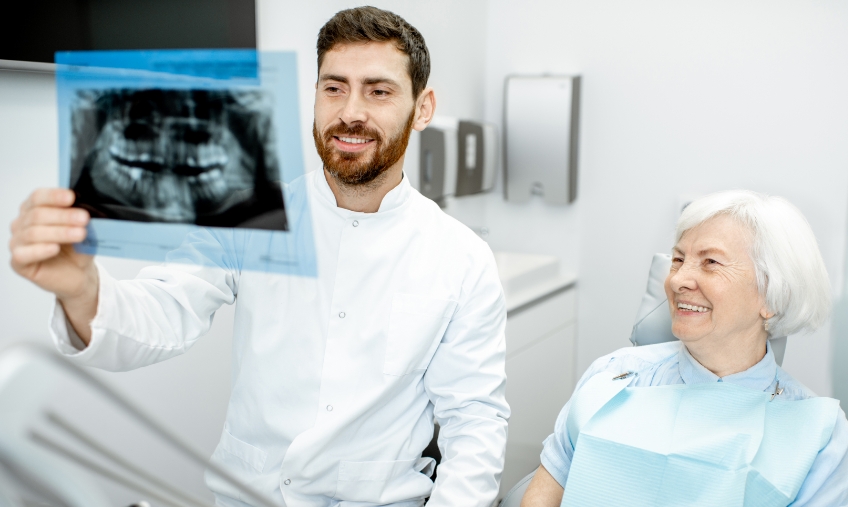 When I first started ground marketing to senior homes, they loved the fact that we would go in and spend the day talking to them and as a result, we would sign them up to come to our practice. The relationships between my dental practice and these homes was so good that within the first 5 months of the year, we met our annual financial goals. By marketing your dental practice to senior homes, you can also find the same level of success.
In this article you will learn:
How to locate senior homes in your community
What to say to get your foot in the door
How to present your practice to senior homes
How to Locate Senior Homes in Your Community
This step is one of the easiest steps, but it can be one of those things that are so easy, you tend to continue to put it off for a while. It is time to take the first step!
Step 1: Do a Preliminary Search
Go onto your search engine – "Google", or whatever you use and type in any of these phrases or all of them:
"senior homes near me"
"Senior homes [zip code]"
"Independent living facilities [zip code]
"Senior homes [city name]"
Step 2: Research
Once you have that first initial list, click "maps" and it should look like this for example:
Step 3: Make a List
Write down the names of the senior home facilities and their phone numbers. As you are making the list, look at their reviews and only move forward with the most respected locations.
Step 4: Map the Locations
Use the map as a good "radius check" to ensure that you are not straying too far from your practice. However, sometimes on a map it may look or seem too far away from your practice when it isn't. Be sure to consider traffic as well. For example, in Beverly Hills, things can look so close to each other but with traffic it can be 60-90 minutes away.
Do this research for every single phrase that was listed above.
Once you have written down about 10-20 locations, or as many locations as you can or are able to, then you're ready for the next step.
Marketing Your Dental Practice
This is the part we all tend to get stuck at. We start to over think and produce all of the rejections or possible answers we may encounter with the person on the other side of the phone. This is rarely the case, especially if you have a script to follow.
The Senior Home Initial Call Script
This starts over the phone, so I recommend setting aside about 30-60 minutes and make these calls. If you relax and realize you are here to help the seniors, it will go smoothly. You want to take care of them and that is why you are calling.
Each Senior Home or Independent Living Facility has an "Activities Coordinator". That is an employee of the senior home that is constantly looking for activities to entertain or benefits for their residents! So when you call and present this to them, you are making their job way much easier. They will love you for it!
Sample Script:
You: Hello?
Senior Home Facility: Hi, how can I help you?
You: Yes, I was wondering if I could please speak to the "activities coordinator"?
Senior Home Facility: Sure, let me transfer you.
Activities Coordinator: Hello?
You: Hello, my name is [your name] and I'm with [your dental practice] which is right down the street from you guys! I was wondering if I could ever go in and give your residents some freebies like toothbrushes, toothpaste, floss, and give them extremely important information about how to take care of their oral health as well?
Activities Coordinator: Yes!
You: Wonderful! Do you think we could do a presentation or host a small class, or what did you have in mind?
Activities Coordinator: Yes, you could…
Yes! You got the "yes" from them and now you are just ironing out the details on what date you should be there.
You never want to just stop by and drop off freebies and your flyers or business cards and leave. This will not do anything. Try to do a presentation or a "sit down class" with the seniors. This will exponentially increase your chances of getting people to sign up and more people talking about you within the facility.
Which leads to our next point, what do you actually say at these presentations?!
The Senior Home Presentation
Prepare for the Day
Follow the tips to ensure that your day goes well:
Practice the presentation until you are confident in what you will be presenting.
Dress professionally.
Get there early.
Meet with the Activities Coordinator first.
Set up your presentation before anyone arrives.
Check for technical glitches.
Have freebies for the attendees.
Relax and enjoy yourself!
The Discussion
When you are deciding what to talk about, remember your audience. What do you think they will be interested in? Allow for space in the presentation to address their concerns.
It is the time for you to listen to them. Start engaging immediately with the first residents that walk in.
Your presentation starts as soon as the first person walks in, not once you're done setting up your booth and presentation slides and all the attendees are present and sitting down.
Ask them for their names and how they're doing. Then let them know who you are and where you work. Then the conversation will naturally evolve into something dental, when it does simply ask them:
"Is anything bothering you?"
"Where do you wish you had more comfort"?
"Is anything confusing you, do you know what is covered by your insurance"
This opens the floodgates!
This becomes a really effective focus group and they will love you for it because you spend time doing the best thing for them by listening and answering their questions. Once you have answered a couple of their questions you will notice time has flown by! Then you can let them know to pick up some freebies and to sign-up to visit you. People will walk up to your booth and ask you more in-depth questions. They may even tell you "You know, my family is looking for a new dentist, can we all go together"? Sign everyone up!
Once you have told the activities coordinator thank you and leave them with information for all the employees, don't forget to schedule a second date. That means in a month, you will want to come back and do another "Q&A" session with the seniors.
Imagine doing this with all the senior homes and independent living facilities in your community. Not only will you build fantastic brand awareness and bring in new patients consistently, but you are also taking care of a growing population.
Start today and see the wonderful results you can marketing your dental practice to senior homes.

Michael Arias is the host of The Dental Marketer podcast and founder of a ground dental marketing firm.