---
Wear is one of the most common cases any restorative dentist will encounter - but how do you know if your diagnostic evaluation and treatment approach are encompassing the full spectrum of challenges your patient may be demonstrating?
Spear's "Treating the Worn Dentition" seminar is designed to provide clinicians with the tools and insights they need to understand why wear patients are presenting the way they are as well as why and when to pursue any given treatment path.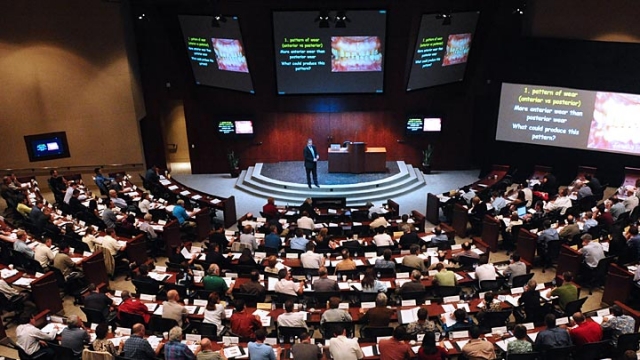 In an exciting new addition, Spear is proud to announce that prosthodontist and airway expert Dr. Jeff Rouse will be co-leading the seminar alongside Dr. Gregg Kinzer as of October 2018.
"If you're seeing wear patients, you have to be thinking about the etiology," Kinzer said. "Why is this happening? Is it attrition? Erosion? One of the first etiological factors we need to consider is airway. If I'm not evaluating airway, I'm doing a disservice to my patient."
Kinzer also noted that the incorporation of airway into the Worn Dentition curriculum is part of a greater effort to "make the clinical content across Spear more uniform," creating a stronger flow between seminars, courses and other Spear offerings.
Though the bulk of the Worn Dentition curriculum will remain the same, Rouse's expertise will add, in his words, "a flavor of some airway issues." This "flavor" of airway will be another means by which the seminar will shed light on the various etiologies and treatment options for tooth wear.
"I incorporate an emphasis regarding why patients brux their teeth and why they have erosion," Rouse added. "There are definitely airway issues that are related to that. I'll also walk through various choices of appliances and even customization of splints so patients gain the most from the ability to breath."
Clinicians can expect to leave this seminar feeling much more confident in their ability to diagnose and treat wear cases, and can expect to have a deeper understanding of:
the different "etiologies" associated with tooth wear
how the occlusion needs to be designed in order to minimize fracture/failure in patients that grind their teeth
how to treat "short/worn" teeth and which materials to use
how to make treatment feasible from a financial standpoint when a large number of teeth need to be treated by "phasing" treatment
how to manage implants in patients who grind their teeth
"This seminar shows you how to think through the sequencing of the cases," Rouse said. "You'll understand how to develop the right plan structurally, occlusally and esthetically so you can do these types of cases. It takes big cases and turns them into something manageable."
Kinzer added that the curriculum is designed to help restorative clinicians get out of their comfort zone when it comes to treating wear patients and begin taking on more challenging cases. This applies to not only seasoned doctors who have been accepting and treating wear patients for many years, but newly practicing clinicians as well.
"To new dentists, this can seem overwhelming," Rouse said. "The course is set up to provide comfort for them. We break the course down into sequenced cases. If all you're thinking about is a full-mouth rehabilitation that requires 28 teeth at a time, we'll show you how to do it at a pace you're comfortable with. And we break it down in a way that patients can afford."
Rouse added that the course speaks to the level of information that an advanced clinician is looking to obtain, but in a widely accessible way that explores sequenced approaches to complex cases.
"From a full reconstruction to a single tooth, clinicians are going to walk away knowing exactly how to approach treatment and evaluate risk," Kinzer said.