---
If you ask most people what is important in life, you're likely to hear some common denominators: faith, family, personal values, making a difference in the world, being passionate about you do. But how often do you really get to combine all these factors into one richly satisfying experience in the service of a greater good? How often do family values and professional values get to intersect in a powerful way?
I got a great answer to that during my recent trip to the Open Wide clinic in Peronia, Guatemala.
I spoke with a dentist who has been a friend of Open Wide since the beginning. His name is Dr. Gregory Plancich, and he has been coming to the clinic every year since 2013. That is remarkable in itself, and it shows the level of commitment he has to helping others, but what makes it even more remarkable is that he has been involving his family, too.
On his first visit he came with both of his sons. His younger son, Bryce, came with him on each subsequent service week. This year Bryce was here again – this time as a first-year dental student. In fact, this young man's involvement in outreach is one of the considerations at his dental school of choice and in many dental schools' applicant evaluations.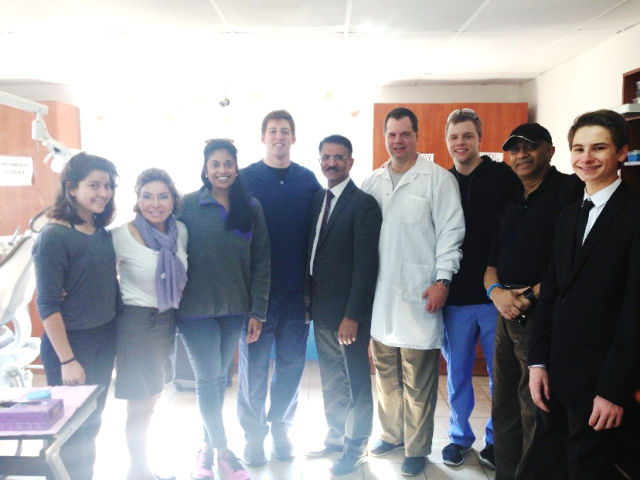 This wasn't the only volunteer family on hand. Dr. Abraham John was there with his daughter Priya, who had been considering a career in dentistry. Seeing the incredible impact this vital work was having on the lives of the people in the community solidified her decision right there to enter the profession, so that she, too, could one day perform dentistry for people like the ones she met there. Completing the volunteer team was oral surgeon Dr. Joan Greco, along with her daughter and assistant, Tori, who was there on her first visit to provide treatment and assess next steps for an oral surgery program at the clinic.
I found it so heartwarming to see the trust and love and caring that was so evident in these volunteer families – that they found great meaning and purpose in doing something of immeasurable value for others and, most importantly, in doing it together.
And then there was Ryan, who was actually a motivating reason for me being there in the first place. His father, Paul Guggenheim, is the CEO of Patterson, and is someone who has also been very instrumental in contributing to the success of Open Wide. So when Ryan called asking to get involved with the foundation, I said yes as a favor to Paul. It didn't take long, however, for me to realize what an incredible experience this would be for Ryan and what an incredible asset he would be for the organization. I had been meaning to make a return a visit to Guatemala, so I offered to take Ryan along so he could see firsthand what it was all about.
Ryan was instantly captivated by what he saw there, and being the charming young man he is, became a hit with the people in the clinic and the visiting volunteer teams. I even coached him on giving a brief talk, which he delivered in both English as well as Spanish, as he has been studying the language for the last six years. Ryan did not just come to look around; he had done his homework and he arrived with a wealth of information about Guatemala and its people. His passion for understanding this culture earned him great respect from the people there.
I fully realized then that there was a whole other dimension to the Open Wide legacy. Aside from the urgent dental care that was being done, aside from the education that is being provided by mentoring local dentists and providing patient education, and aside from the great experience the volunteer dentists were getting, there was also another opportunity here – an opportunity to instill a service mindset in young people.
So I made a decision right there. And that's why Ryan Guggenheim is the latest addition to the board of the Open Wide Foundation, in a role as special ambassador for youth outreach. Because if Open Wide is to be truly sustainable for the long term – and for that matter if we, as citizens of the world, are going to continue to build a better world for future generations – we have to involve and inspire the next generation of leaders now.
You don't have to have a son or daughter who is on a dental career path in order to play a part in this. But you can, through Open Wide, share your knowledge and give guidance to young Guatemalan dental residents who will ultimately be taking stewardship of these clinics, and you can inspire the next generation of volunteers. Not only that, as I saw on this visit, you can make it into an opportunity for a profound shared experience. Bring your spouse, bring a son or daughter, bring team members.
Even back home in your practice, invite your family, including young pre-teen kids, to participate in the practice so they can get a real insight into what you do and what it means to serve others. It's one of the greatest opportunities you have to put your family values into action.
(Click this link for more articles by Imtiaz Manji.)