---
Ceramics used in dentistry require heat to consolidate and structurally transform the material. Firing ceramic restorations at temperatures and durations intense enough to require a dedicated furnace is an everyday reality in the dental laboratory. Restorations utilizing complex stratification and multiple firings have the potential to closely mimic nature in both appearance and function. Yet there are significant risks to multiple firings. One such risk is over-firing porcelain. In this case, the optical properties of the porcelain build degrade and the restorations begin to lose their "depth." Recently, some ceramists at the University of California, Los Angeles had to learn to deal with an entirely different kind of over-firing.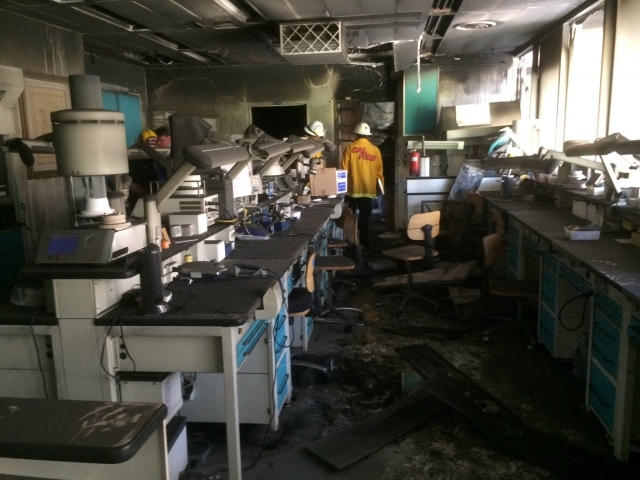 In the early morning hours of April 14th, more than 100 Los Angeles firefighters were called to the UCLA School of Dentistry to contain and extinguish a fire centered on the third floor. Media reports included images of smoke and fire billowing from windows. It was reported that firefighters required nearly an hour to gain the upper hand in controlling the blaze.
The dental school's main clinic was closed to faculty, staff, students and patients while the damage was assessed and so cleanup efforts could begin. Thankfully, no one was reported injured as a result of the fire. Unfortunately, the fire appears to have destroyed the third-floor lab serving as home to UCLA's Center for Esthetic Dentistry.
The Center for Esthetic Dentistry (CED) is led by Director Dr. Ed McLaren and Co-Director James Choi. The CED consists of two parallel programs, one for dentists and another for technicians. Both programs are full-time and last for 24 months. The program for technicians is intense and is designed to develop technicians into Master Dental Ceramists. There is an optional third year during which ceramists can refine their skills as an apprentice. Students come from all over the world to learn firsthand just how powerful collaboration between the clinician and the ceramist can be.
The fire sent a collective shiver through the ceramist community, especially here in the United States where McLaren's program is one of the few (or perhaps only) remaining technical programs of this caliber. Graduates are found contributing their efforts in small to large commercial laboratories and even small boutique dental labs. Ask your ceramist- he or she will know of this program.
Fortunately no one was hurt during this fire. Property was certainly destroyed and our thoughts go out to everyone impacted. In time the lab will be rebuilt. For the short term, the ceramics lab has moved to a different area of the school and life is returning to normal.
Imagine a disaster like this unfolding closer to home, perhaps your own office. Fire damage, smoke damage, water damage and lingering concerns for air quality are all potential problems following a structure fire. Besides the structure, equipment and supplies what other kinds of things could have been lost? Patient records, lab cases, treasured gifts from patients and friends; the list grows quickly. What about the time lost waiting for the structure to be repaired or rebuilt? And the time required to navigate the world of legal and insurance documentation?
How would each of us respond to this kind of loss? The technicians at UCLA were able to get back to work quickly because they were able to share space with another group. How would you get back to work? Do you have a plan? If yes, now might be a good time to review that plan. If no, make one! Preparing in advance for adversity can help to make some of our worst days more manageable.
Be on the lookout for future articles from the Spear faculty addressing specific issues and strategies for managing risk and preparing for the worst.
Things can be replaced. People can't. Having spent countless hours in this lab, I am personally grateful that none of my friends were hurt during the fire. The family at Spear hopes for a speedy recovery to UCLA family and especially the Center for Esthetic Dentistry.
UCLA Strong!
Check out this article by Gary DeWood about creating Emergency Coverage Groups to cover your practice in the case of an emergency.
Sources:
Special thanks to James Choi for allowing us to re-publish his photographs and to both James and Dr. McLaren for their friendship, advice and continued inspiration.
Darin Dichter, D.M.D., Spear Faculty and Contributing Author