---
I recently agreed to see a new patient emergency during my lunch time to "re-cement his broken temp."
The patient was in town for a business meeting and was referred to me by one of his colleagues (my patient). Head's up – It's NEVER just a re-cement on a broken temp. He didn't have the pieces for the two pontics and one of the two terminal abutment temps was missing also. Wow. And I had one hour.
Triad was the perfect material to use to sculpt out teeth which I could then use to index for a bisacryl provisional. I simply rolled out a piece and placed it at the site, had the patient close and started shaping it into the premolar and molar pontics it needed. What makes it ideal is that it is easily shaped, doesn't move or slump once you have teased it where you want it and because of its shape when removed from the package, it provides the necessary bulk from the start without having to incrementally add more. That saves A LOT of time.
Once I had it generally sculpted out, a few minutes with the curing light and it was set enough to then index for the quick set bisacryl material. Happily, the treatment was completed in less than an hour and the patient could get back to his meetings. I can recall in the "old days" we would only have had PMMA acrylic to mix and roll out and seat and wait 10 minutes to set (with the offensive taste and smell).
Triad is a fabulous material that has so many indications for use. Think of using it when you need to create a pontic intraorally. It's super-fast, easy to work with, and predictable.
Mary Anne Salcetti, DDS, PC, Spear Visiting Faculty. [ www.maryannesalcettidds.com ]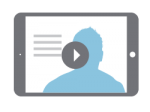 Want to dive even deeper into clinical topics like this? Check out our clinical categories in our
Course Library.
Not yet a member of Spear Online?
Click here to learn more.